I recently decided it was time to begin Pet's anal training. It has been something we have both been curious about. The topic came up again this past weekend when we were discussing our mutual desire for me to exert more control over his day to day life when we are apart.
I like creating positive associations with new stimuli. With this in mind I emailed him the following instructions:
"This week your anal training will coincide with any porn viewing/masturbation sessions. You can indulge yourself only if your ass is full. I expect a picture confirming the (butt) is in place before any stroking begins."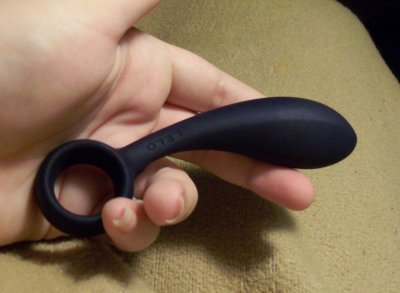 This morning I received a set of pictures from him. Not only did he follow my instructions, but then took it one step further. (He so loves to please me!) He has a prostate toy that we hadn't yet used successfully (see picture of toy above). Since the butt plug proved to be no problem for him, he decided to give the prostate toy a try before completing his masturbation session. Instead of one picture, I got two and a detailed written report of his adventures.
I was surprised at how reading his report affected me. I'm learning I really get a thrill from being in control of him from a distance. I swear it feels like a part of me vibrates and I break into a huge grin. It's an awesome feeling.
The second assignment I gave him this week was much more mundane and will be more challenging for him to muster his enthusiasm. He has recently moved into a new room in the apartment he shares and has been camping out for several weeks. The last time I picked him up, I commented that the space was no reflection of him at all. He is quite fastidious about his personal grooming yet his room is in complete disarray. I instructed him to begin by clearing out all the cans, wrappers, dishes, etc. to catch up on his laundry and begin sorting through his things. I'm heading in his way this weekend so I'll get a chance to check on his progress. I've promised him help in rearranging his furniture to create zones for the different ways he needs his room to function. If I'm pleased with his progress, he will be rewarded. If he has dragged his feet on his room, there will be "correction."
I'll keep you posted on how that goes